Nowadays Whatsapp is most widely used messaging app across the World. The facebook bought app is dominating the social media in Pakistan and being used mostly instead of any other app. Due to its fame, the telecom comapnies in Pakistan are also focusing to target their audience to get more benefit. Jazz whatsapp packages are offered for the users for 1 day, 7 days and 30 days usage.
Every cellular company in Pakistan is offering a variety of packages for its users in order to compete well in the market. Jazz Whatsapp packages are one of those bundles and Jazz customers are enjoying the offers. Mobilink Jazz / Warid Pakistan are not providing enough packages but few of them belongs to daily weekly and monthly categories.
Jazz Whatsapp Packages
Mobilink Pakistan which had previously bought Warid Tel is offering daily, weekly and monthly whatsapp offers. For those who use Whatsapp 24 hours a day can subscribe to Jazz Monthly Whatsapp packages. If you only use Whatsapp and also need sms package as well than Jazz has a solution for you in form of Jazz Whatsapp and SMS Packages. Let move to the main topic and have a look on jazz whatsapp offers.
Jazz Daily Whatsapp Bundle
With Jazz whatsapp packages and sms bundle you will get 10 Megabyte whatsapp with 1800 sms for whole day in only Rs. 7./- This package is valid of 24 hours and can be activated by dialing *334#.
| Package Name | Volume | Activation Code | Price |
| --- | --- | --- | --- |
| Daily WhatsApp Youtube & Social | 1GB Data (WhatsApp, Facebook & Youtube) | *968# | Rs. 16 |
| Free Whatsapp Offer | 65 MB Whatsapp on every voice call | *225# | Free |
| DAILY MEGA | 1 GB DATA | *117*4# | Rs.27 (Incl. Tax) |
| DAILY EXTREME | 2 GB DATA (12AM-12PM) | *757# | Rs.15 (Incl. Tax) |
| SUPER GHANTA OFFER | 1 GB DATA ( for one hour) | Rs.10 (Incl. Tax) | *638# |
Jazz Multan Offer (Free Whatsapp & Facebook)
Apart from above packages, Jazz Pakistan has announced special free offer for customers of Multan. You can enjoy free facebook and Whatsapp if you are resident of Multan city. This Offer can be activated by dialing *499#.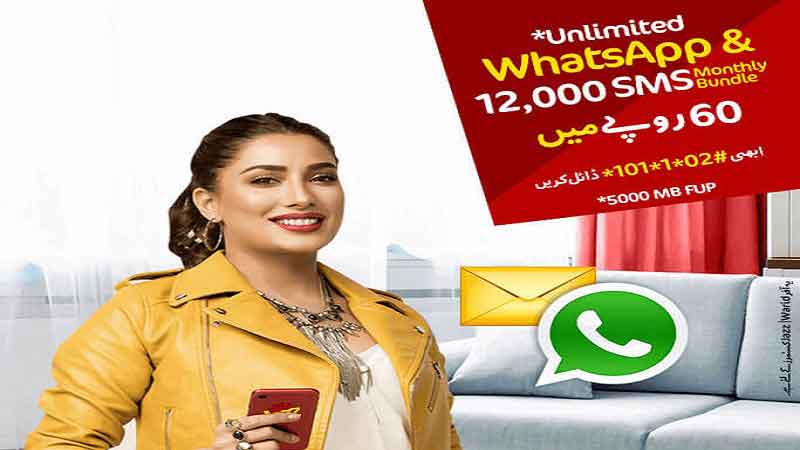 Terms & Conditions
This Offer is valid for 30 days.
You will get 4000 free MBs for whole month.
Activation code : *499#.
Jazz Weekly Whatsapp Packages
You can get Jazz weekly Whatsapp Offer for only Rs. 50/- by dialing *660#. You will get 8 GB social media volume for whole week which can be used between 2 AM to 2 PM. You can use Facebook, Whatsapp and IMO after activation of this package. Jazz weekly whatsapp offer gives you jazz bundle for Rs. 20 and Rs. 99. Both packages contain sufficient volume of whatsapp data. You can check the detail of Jazz whatsapp packages from here.
| Package Name | Volume | Activation Code | Price |
| --- | --- | --- | --- |
| Jazz Weekly WhatsApp Bundle/ Package | 25 MB Data for WhatsApp + 1500 SMS | *101*1*07# | Rs.20 |
| Jazz Weekly Youtube & Social | 5 GB DATA for WhatsApp, Youtube, IMO & Facebook | *660# | Rs.99 (Incl. Tax) |
This bundle will require reactivation after 7 days.
Rs. 1/MB will be charged for overage on all packages.
On checking remaining data a balance of Rs. 0.06 will deducted.
Jazz Monthly Whatsapp Package
Jazz also offered some great whatsapp bundle at monthly basis at a very low price. With Jazz monthly whatsapp bundle you can enjoy 12000 sms for whole month for only 70 rupees and 5 GB Whatsapp data. This package is valid for 30 days. Here is detail of Warid / Jazz monthly whatsapp bundle.
| Package Name | Volume | Activation Code | Price |
| --- | --- | --- | --- |
| Jazz Monthly WhatsApp Bundle | 5 GB DATA (WhatsApp, Facebook & IMO) + 12000 SMS | *661# | Rs.110 (Incl. Tax) |
Jazz has various other packages which are combo of sms, calls and whatsapp data. Jazz is offering numerous best packages for its users. These packages are available for Warid users as well. If you need details of other packages than our website has a lot of stuff for you. All you have to do is to visit us on daily basis.