Lahore Electricity Company LESCO Bill Online can be checked by using this website. Parhlo Pakistan has created this webpage for your ease to get LESCO duplicate bills in a few seconds. You can check the LESCO bill for commercial, residential, and industrial connections. You can check the latest bill of any month by going to this link.
How to Check LESCO bill online?
Add your required data below and get your latest LESCO bill for free.
An Overview of LESCO
Lahore Electric Supply Company is providing electricity facilities to Lahore, Kasur, Sheikhupura, Nakanka Sahib, and Okara districts. The company was established in 1998. There are 8 circles working under LESCO which are further divided into divisions and sub-divisions. You can download LESCO Bill if you belong to any of the below circles.
List of Circles


Eastern Lahore.
Central Lahore.
Northern Lahore.
South Eastern Lahore.
Kasur Circle.
Nankana Circle.
Okara Circle.
Sheikhupura Circle.
Each circle in these 8 circles is subdivided into divisions and sub-divisions.
Central Lahore Circle has 5 divisions and 31 sub-divisions. the north Lahore Circle has 5 Divisions and 28 sub-divisions. Okara Circle and Eastern Lahore have 4 division and 23 sub-divisions, each. South Eastern circle has 4 divisions and 26 sub-divisions. Kasur Division also has 5 divisions and 30 sub-divisions. Sheikhupura division and Nankana have 4 divisions and 18 & 16 sub-divisions, respectively.
How to check LESCO Bill?
To check your LESCO bill you are required to have a customer ID or reference number from your bill. By adding the reference number in the above-given box, you will get your bill in a second. It is super easy to check wapda Lesco's bill and get duplicate bill before delivery of the original bill by the LESCO company. After downloading the LESCO bill you can submit it to any nearest bank, Easypaisa, UBL Omni, jazz cash outlets, whichever is easier. In case you are unable to find a customer ID or reference number then below is the solution.
How to find Reference Number or Customer ID?
You can find your reference number or customer id from your bill by the simplest method.
Take your previous LESCO wapda electricity bill.
Search for tariff section which is located at top left corner of the bill.
Below tariff section there is reference number and customer id.
Check below given image for more easy searching.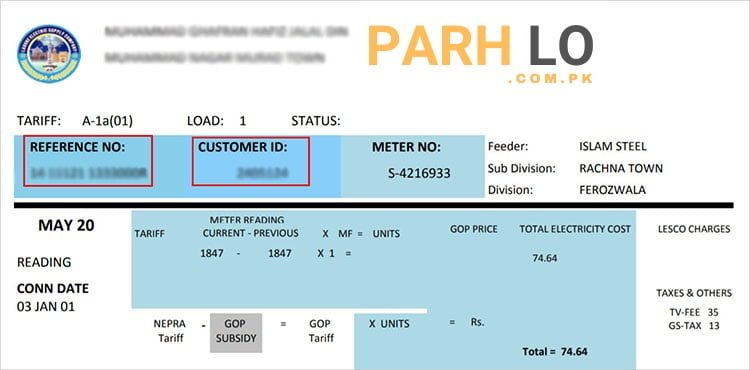 In the above-given section, you can see two boxed items i.e reference no and customer id. Just pick one of them paste it in above given table and get your WAPDA LESCO bill now.
Also Check: IESCO Bill Online
What is the Helpline of LESCO?
Lahore Electricity Supply Company (LESCO) has set up a state-of-the-art helpline system for its customers in LESCO headquarter. Moreover, each Division and Sub-Division has a dedicated officer to listen to the complaints. The users can call on following phone number in order to record their complaint:
There are millions of customers of LESCO and it may be difficult for you to record complaints during busy hours at the first call. Or you may find the complaint number busy due to a huge number of complainants calling for a reason or another.
Frequently Asked Questions (FAQS)
Q. What is CR in the LESCO bill online?
A. CR stands for credit bill. The balance amount which is to be paid by LESCO to you is called CR bill. CR bill is sent if due to some adjustments it came to the knowledge of LESCO that you were overcharged. The company deducts your current bill from the CR amount and sends you the remaining credit amount which is not payable.
Q. What is a deferred Bill?
A. The defer bill gives you an option to pay your bill for the current month or pay it with the next bill as there is no late payment surcharge on deferred bills.
Q. What are FC Charges?
A. FC surcharge stands for financing cost which was started from 10th June 2015. This surcharge is collected as debt servicing of the company and it is collected on the consumed units at the rate of Rs. 0.32 per unit.
What is FPA in Wapda Bill?
FPA is also known as Fuel Price Adjustment which are the charges collected on the basis of fuel price fluctuation.
Q. What is GST?
A. This tax is collected by the government in form of a General Sales tax on consumed electricity. The cost of GST is 17%.
What is the process to change the name on Lesco bill?
This process begins with filling up the form for the name change process. The form can be collected from the LESCO offices.
How to check LESCO Bill by meter number?
Presently there is no process to check LESCO bill by meter number. We will update you if any update in this regard is shared by WAPDA.
How to pay lesco bill in installments?
If you are arrears in a bill then it can be paid on an installment basis. However, you cannot pay the current bill in installments. You can visit the SDO office for paying your bill in installments.