Saman e Wajood is a short stories book written by Bano Qudsia. This book contains 13 various short stories having different characters and stories in each. Each story has a separate moral story and points out various cultural issues. Following urdu afsanay are part of the book written by Bano Qudsia.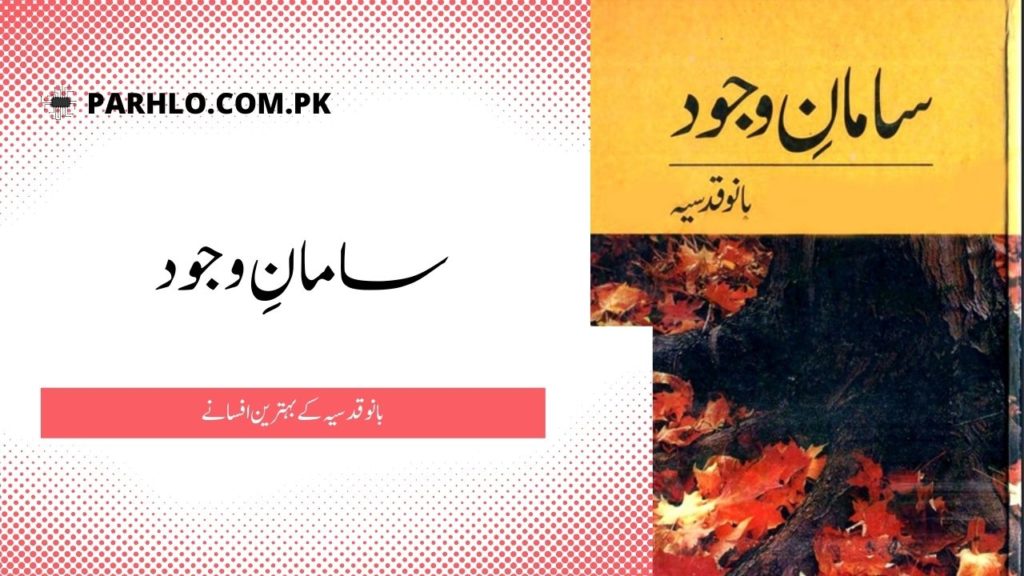 Mansraaj Kabeen (منسراج کابین)

Ibn e Adam (ابنِ آدم)
Tangi e Dil (تنگی دل)
Nafs e Na Rasaa (نفسِ نارسا)
Sadma e Awaz (صدمہ آواز)
New World Order (نیو ورلڈ آرڈر)

Shehar e Kafoor (شہرِ کافور)

Mausam Sarma Main Neeli Chirrya Ki Maut (موسم سرما میں نیلی چڑیا کی موت)

Khakstri Boorha (خاکستری بوڑھا)

Asbaaq Al Salasa (اسباقِ ثلاثہ)

Shauq Hathi Ka, Sawari Choohay Dil Ki (شوق ہاتھی کا، سواری چوہے دل کی)

Kaj Kalaah (کج کلاہ)
Shatranj Chaal (شطرنج چال)
Mausam Sarma Main Neeli Chirrya Ki Maut, Sadma-e-Awaz, and Shatranj Chaal are worth reading stories, however, the other stories are also extra ordinary to read. We are hopeful that you will enjoy while reading these afsanay.
Who is the Writer of Saman e Wajood Book?
Bano Qudsia is the writer of this famous fiction novel. Bano Qudsia was born on 28 November 1928 in Ferozpura. She is a spiritualist and playwriter also known as Bano Aapa. She was famous for writing television and stage plays in urdu and Punjabi. Not only in Pakistan but Bano Qudsia got huge fame across the border due to her writing. She was the wife of urdu novelist Ashfaq Ahmed.
Bano Qudsia got her early education from the famous Kinnaird College, Lahore and joined Government College University, Lahore for higher education. She got Masters Degree in Literature from GC University and met Ashfaq Ahmed in the same university. Both Ashfaq Ahmed and Bano Qudsia are known as inseparable due to their social works.
Bano Qudsia is a well known name of urdu literature. She has written short stories and dramas including famous play Aadhi Baat. Her novel Raja Gidh got huge fame due to best piece of writing shown in the novel. She left the temporary world on 4th February, 2017.
Overview
| | |
| --- | --- |
| Title | Saman e Wajood |
| Author | Bano Qudsia |
| Pages | 103 |
| File Size | 2.75 MB |
Free Download Saman e Wajood Book By Bano Qudsia
You can download Bano Qudisa book Saman E Ishq for free. Parhlo Pakistan is giving free Novels for our readers. You can download this novel by clicking Download Button given below. Another page will open and download button will appear there. Just press download button and wait for 10 seconds. Your file will be downloaded into your device.
Read Saman e Wajood Book By Bano Qudsia Online
We have also prepared a forum for reading this novel online. Saman e Wajood By Bano Qudsia is available for reading online. Just scroll down and read this article online. You can also open this novel in your google drive as well. This novel will be downloaded through google drive if needed.