Like Ufone prepaid call offers, Ufone has bring some best offers for postpaid users . Ufone postpaid packages includes ufone to ufone calling, ufone to other network calls, sms, and internet for whole month. You just have to pay a security before changing your sim to postpaid. Ufone is offering a number of bundles for monthly usage. These offers are designed as per usage requirement of users. If a user likes to call for long there are packages for him. If you need low cost and less usage packages, then you can also get benefit from it.
Ufone also known as Pak Telecom Mobile Limited is wholly owned by Pakistani businessman. The company first initiated their services in 2001 and got a gain in subscribers on daily basis. With 24 million users right now and covering all cities in Pakistan, Ufone is renowned tech giant in Pakistan. Like other cellular companies, Ufone is also claiming to be number 1 network in Pakistan. Ufone is also famous for producing trolling advertisement in past which is also a reason behind the growth of ufone.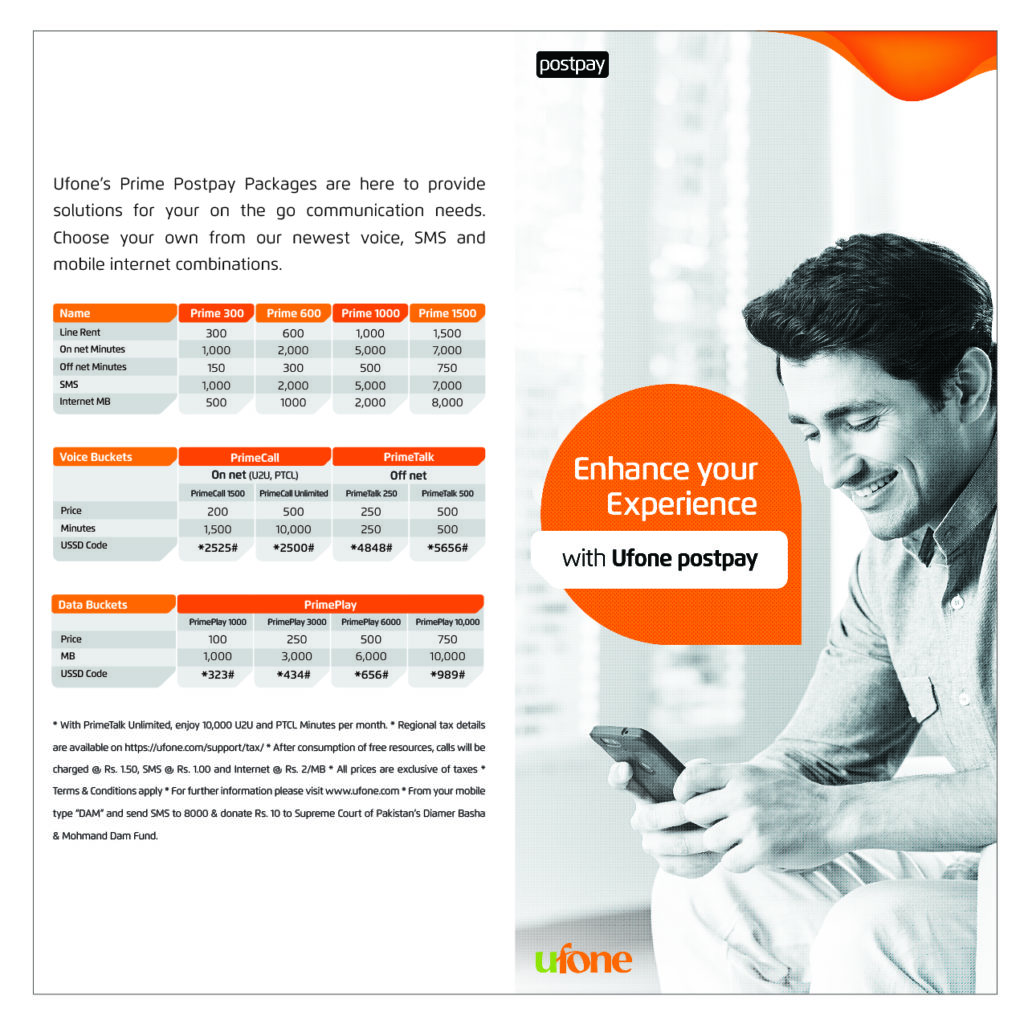 Ufone Postpaid Packages
With more than 20 million users, ufone is going up in cellular industry in Pakistan. Ufone has 4 packages for postpaid users. Ufone postpay includes low to high cost packages. Today we will talk about ufone postpaid packages with their adds on and other relevant data.
Ufone Prime 300.
Prime 600.
Ufone Prime 1000.
Prime 1500.
Package Name
Price / Line Rent
U-2-U MINS
Other Network Mins
SMS / Data
Prime 300
Rs.300
1000 Minutes
150 Minutes
1000 SMS
500 MB
Prime 600
Rs.600
2000 Minutes
300 Minutes
2000 SMS
1000 MB
Prime 1000
Rs.1000
5000 Minutes
500 Minutes
5000 SMS
2000 MB
Prime 1500
Rs.1500
7000 Minutes
750 Minutes
7000 SMS
8000 MB
Postpaid Prime 300 Offer
The first package Ufone is offering for postpay users is Prime 300 which is giving users 1000 ufone to ufone / ptcl minutes with 150 other network minutes and 500 MBs internet. The line rent for this offer is only Rs. 300 per month. You can activate this offer by dialing 300 or visiting nearest franchise or customer service center.
Ufone Prime 600 Offer
If you want an affordable package with good number of free ufone to ufone calls and other free resources than ufone prime 600 is a best offer for you. With this offer you will get 2000 on-net minutes, 300 other network minutes and 1000 MB Internet. Apart from this you will also get 2000 sms for whole month. Presently line rent has been decreased to Rs. 300 for limited time.
Prime 1000 Postpaid Offer by Ufone
This offer is giving users some ultra free minutes. With prime 1000 offer, ufone customers will get 5000 ufone to ufone minutes, 500 other network minutes and 2000 MBs. The line rent of this offer has been decreased to 500 for limited time by Ufone. Get the offer and enjoy calling, texting and browsing for whole month.
Ufone Prime 1500 Offer
With ufone prime 1500 offer you will get 7000 Ufone to ufone minutes, 750 other network minutes and 8000 MBs data for whole month. The offer also includes 7000 SMS. This offer is best for those who want long calls for business or any other purpose.
Term and Condition:
Discounts on line rent is available only for Prime 1500, 1000 and 600 postpaid packages.
The discount is available for first two billing only.
On-net minute includes ufone to ufone and ufone to ptcl calling.
Taxes are applicable on all of above rates.
Check the detail of taxes on Ufone website.
In case free resources finishes you will be charged extra. Call @ Rs. 150, Internet @ Rs. 2.00 MB and SMS @ Rs.

All these packages are auto renewed on first date of every month.
Ufone Postpaid Internet Offers
Ufone is offering 4 internet offers of postpaid users. If your free internet of postpaid prime offer gets exhausted then you can get extra MBs by choosing anyone of the below given offer.
PrimePlay 1000
Ufone PrimePlay 3000.
PrimePlay 6000
PrimePlay 10000
| | | | |
| --- | --- | --- | --- |
| Package Name | Price | Data | Sub Code |
| PrimePlay 1000 | Rs. 100 | 1000 MB | *323# |
| PrimePlay 3000 | Rs. 250 | 3000 MB | *434# |
| PrimePlay 6000 | Rs. 500 | 6000 MB | *656# |
| PrimePlay 10000 | Rs. 750 | 10000 MB | *989# |
Taxes are also applicable on above packages. After consumption of above data the customers will be charge @ Rs. 2.00 per MB. If you do not pay your bill on time then your outgoing calls will be blocked until clearance of dues.