Bin Roye Ansoo is a social romantic novel written by the well know Farhat Ishtiaq. Farhat Ishtiaq has written a number of romantic and socio novels shedding lights on the issues in our culture and society. Bin Roye Ansu was first published in Khawateen digest on episodes base which was later on published by Ilm o Irfan publishers in a form of book. There are a number of popular writers who got fame due to their writing skills including Nimra Ahmed and Umera Ahmed.
To come up to the story of Bin roye ansoo, the novel has 3 main characters Saba, Saman and Irtiza. Sabah is the most loved one by his parents who fell in love with Irtiza. Both Irtiza and Saba loves each other and a twist comes in the story. Irtza moves to United States for business and fall in love with Saman who his his foster daughter of his uncle.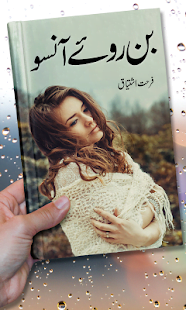 Saba was totally unaware about the love triangle and was still in love with Irtiza. Bin Roye Ansoo novel contains hate, love rivalry, revenge and much emotions. The story has thrilling end so we are sorry to share more as it will spoil your reading.
Overview
Who is the Writer of Bin Roye Ansoo Novel?
Farhat Ishtiaq is one of the top urdu novel and screenplay writers of Pakistan. She is famous for writing socio cultural and society reforming novels. Farhat Ishtiaq was born in Karachi on 23 June, 1980 and got his Degree from NED University, Karachi. She got Engineering job in 2004 but sooner she took step toward literature she left her job.
Farhat Ishtiaq is famous for writing about cultural and social norms of Pakistan. She has shed light on every bad and good social issues. She started her career from Humsafar novel which became block buster. Farhat got so many Awards since 2013 for her best writing. The awards Hum Award for Best Writer of Humsafar in 2013, Lux Style award in 2014 for best writer, Lux style award for Diyar e Dil in 2016 and also got Hum award in 2016 for same screen play. She also got Lux style award and Hum award in 2017 for Udhari.
Free Download Bin Roye Ansoo Novel
You can download Farhat Ishtiaq's novel Bin Roye Ansoo for free. Parhlo Pakistan is giving free Novels for our readers. You can download this novel by clicking Download Button given below. Another page will open and download button will appear there. Just press download button and wait for 10 seconds. Your file will be downloaded into your device.
Read Bin Roye Ansoo Novel by Farhat Ishtiaq Online
We have also prepared a forum for reading this novel online. Bin Roye Ansu Novel is available for reading online. Just scroll down and read this article online. You can also open this novel in your google drive as well. This novel will be downloaded through google drive if needed.